Fusion IO finally announced acquisition of NexGen storage after a few month NexGen was quiet comparing to its SMB targeting storage competitors like Nimble. There were signs and rumors that were putting FIO as one of the most promising candidates for the acquisition, and it happened.
With this new addition to Fusion IO portfolio it has a clear path into the SMB market with NexGen hybrid flash/spindle disk arrays as well as it is beefing up against three letter acronym companies by providing all flash storage where Fusion IO did not play yet until now. And of course it give Fusion IO stock an immediate BUMP which makes the investors happy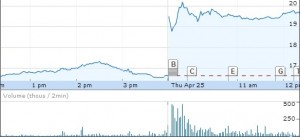 Fision IO paid $114m in cash and $5m in stocks which is a nice payback to investors since per some sources NexGen funding was very low (in 10sM) in A and B rounds.
http://www.storagereview.com/fusionio_announces_nexgen_storage_acquisition