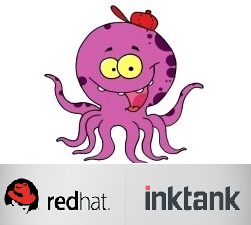 Or should I say Ceph in the RedHat ;) I have been working hard on all kinds of interesting and innovative things that I will start sharing on soon, but this one worth discussing first. In my last post SAN vs OpenSource I was discussing the benefits of open source Software Defined Storage (SDS) initiative comparing it to SAN looking at two through the lens of Ceph. Another interesting post that was quite popular (according to the Google Analytics) is Ceph vs Gluster who interesting enough now joined under the RedHat or have they?
OpenStack community: "Then something went Boom!". Quite a shake up in the OpenStack and open source community as Inktank [company behind Ceph] gets acquired by RedHat for $175M.
What happened and why, completely make sense and likely could not be any better for Ceph and the community as a whole.
What about Inktank?
Maybe…as any acquisition it will cause some changes in the acquired company one way or another and the price could have been higher IF Inktank would join someone like Cisco (which was  the rumors on the streets), but for community it would mean death of this open initiative. So, the result overall good from both angles, and certainly a shakeup in OpenStack community as it is the largest acquisition indicating the progress and strategy around the overall initiative as a whole.
Why storage?
First, space is HOT! Lets take a look at storage space in the past few month (descending order of $$$):
Plus let's face it, there are not too many Ceph competitors if you take opensource distributed space that are still independent: Swiftstack and Omnibond with OrangeFS. In OpenStack object story specifically it is pretty much Inktank and SwiftStack, but Ceph in addition to object can do block as well, which is extremely powerful as block is here to stay for a while which gives Ceph an opportunity to integrated with virtualizarion platforms like VMWare and Hyper-V.
Why RedHat?
All of the above and OpenStack++. RedHat not too long ago jumped on OpenStack's bandwagon with the message indicating that it is going to be the support, services and education hub for OpenStack (certainly not the only one as Mirantis has been there from very early days) but considering RedHat's space definitely make sense. Ceph besides its storage features has a great Ceph community and a lot of fans in OpenStack community which makes a ticket to ride for RedHat.
Concerns?
Of course there are concerns! There is no guarantees that Ceph is going to have a huge infusion of resources to go faster (IMO is certainly needed).
Look at Gluster which pretty much disappeared as it joined RedHat, BUT Gluster is different technology wise and therefore strategy as well. The idea is that Ceph is strong in OpenStack where RedHat is trying to strive and with that it is part of a bigger vision, and to be successful Ceph needs to keep going forward closing existing gaps to grow stronger SDS and OpenStack community.
What about customers?
That's a great news! There was always a concern inside the storage community on whether Inktank will be around, etc. Now for those who were hesitant to place a bet now can safely relax as Ceph is here to stay as Ceph is backed by a large open source org.
As a result it is a boosts an alternative to expansive three letter acronyms giants.
With that as a member of the open source and Ceph community I would like to close by congratulating the Inktank team, and state that I am excited about the news and looking forward to continue working on and with Ceph as well as more news coming in this space!