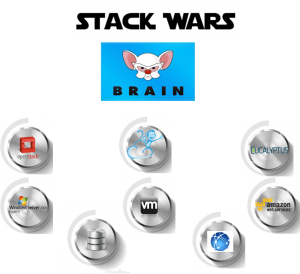 Finally, looks like the "knobs war" is coming to its logical conclusion. In the past 5 years there was a huge hit on the knobs, and by knobs I mean APIs (interfaces) that being exposed by different virtulization/cloud platforms. The "hit" was in particular centered around providing a layer on the top (the MASTER knob) that would provide ability to manipulate through a higher level interface (aggregated/federated knob) the knobs underneath.  But with that the announcement of the AWS Management Portal for vCenter it becomes clear that this place is now closed.
Why?
Watch out! Big guys moving in!
OpenStack, Eucalyptus are there from the open source side.
AWS is tapping on integration with vCenter making initiatives like around federated orchestration obsolete. Based on this move as well as response from analysts it is likely that this no brainer (knob oriented) space will converge where VMWare will go to Microsoft/Azure (once/if baby grows up), Amazon has been tapping into OpenStack for some time considering it is in VMWare now.
It is unfortunate to see where some organization still making investment/acquisitions in this space while not anticipating the trend change.
What's next?
Ok, so enough knobs have been created and more to come (as SDN matures), but now finally someone need to turn them…  So are we going to touch the knobs? Of course not!
During the epoch of BigData, data scientists, and come back of the AI, it is time to tap on the yet to be explored space of self-driving datacenter, Siris of the cloud, and Facebooks for the infrastructure to answer the questions of yesterday, today and tomorrow adjusting the knobs accordingly.